LA ANSIEDAD, EL BURNOUT Y EL BIENESTAR PSICOLÓGICO EN ESTUDIANTES UNIVERSITARIOS /ANXIETY, THE BURNOUT AND PSYCHOLOGICAL WELL-BEING IN COLLEGE STUDENTS
Resumen
La presente investigación es descriptiva, trasversal correlacional, Tiene como objetivo analizar la incidencia de la ansiedad y el burnout  en  el bienestar psicológico de los estudiantes de los programas de psicología y educación física, así como explorar si existen diferencias en función del programa que estudian. La muestra está compuesta por un total de 46 estudiantes de los programas de educación física y psicología de los cuales 25, son hombres y 21 mujer en un rango de edad entre 19 y los 41 años. La información fue recolectada a través de las escalas Maslach Burnout Inventory MBI, Ansiedad Rasgo-Estado (STAI)) y de Riff. Las conclusiones serán presentadas al área asistencial de la institución a fin de promover programas que mejoren la calidad de vida de los estudiantes.Palabras claves: Ansiedad, Burnout, Bienestar Psicológico  ABSTRACT This research is descriptive, cross-correlation, it aims to analyze the incidence of anxiety and burnout in the psychological welfare of students of psychology programs and physical education, and explore whether there are differences depending on the program they are studying. The sample consists of a total of 46 students of physical education programs and psychology of which 25 are men and 21 women ranging in age between 19 and 41 years. The information was collected through scales MBI Maslach Burnout Inventory, State-Trait Anxiety (STAI)) and Riff. The findings will be presented to the health care area of the institution to promote programs that improve the quality of life of students.Keywords: Anxiety, Burnout, Psychological Well-Being 
Citas
Adler, N. E. y Snibbe, A. C. (2003). The role of psychosocial processes in explaining the gradient between socioeconomic status and health. Current Directions in Psychological Science, 12(4), 119–123.
Allport, G. W. (1961). Personality: A psychological interpretation. New York: H. Holt and. Company.
Anchante, M. (1993). Rasgo – estado y soporte social en un grupo de alumnos de EE.GG.LL. de la P.U.C.P. Tesis de licenciatura no publicada, Pontificia Universidad Católica del Perú.
Argyle, M y Martin J. (1991). The dimensions of positive emotions. England and Wales Magazine British Journal of Social Psychology, 26, 127-137.
Bresó, E. Well-being and Performance in Academic Settings: (2008) The Predicting Role of Self-efficacy. [Trabajo para optar el título doctoral Psicología en las Organizaciones]. Universidad Jaume I de Castellón, Castellón, España.
Caballero C, Hederich C, Palacios SJ.(2010) El burnout académico: delimitación del síndrome y factores asociados a su aparición. Revista Latinoamericana Psicología; 42(1):131-146
Cubas, M. (2003). Bienestar subjetivo, bienestar psicológico y rendimiento académico en estudiantes universitarios. Tesis de Licenciatura. Universidad de Lima, Lima-Perú.
Diener (1984) Subjective well-being. Psichological Bulletin, 95, 3, 542-575.
Díaz, D., Rodríguez, R., Blanco, A., Moreno, B., Gallardo, I. y Dierendonck, D. (2006). Adaptación española de las Escalas de bienestar psicológico. Psicothema.18(3), 572- 577.
Freudenberger HJ. Staff (1974) burnout. J Social Issues;30(1):159-166 .
Gil-Monte, P. R. (2003) El Síndrome de Quemarse por el Trabajo (Síndrome de Burnout). Profesionales de Enfermería. Revista Electrónica Interacao Psy. (1):19-33. En: http://www.insp.mx/salud/index.html
Haack, M. (1986) Antecedents of the impaired nurse: Burnout, depression and substance use among student nurses (social support, attribution). Tesis Univesity of lllinois, Chicago, EE.UU.
Hernandez, Fernandez y Baptista (2006) Metodología de la investigación, Cuarta Edición - Editorial: McGraw-Hill. México
Heylighen F. (1992) A Cognitive-Sysremic Reconstruction of Maslow's Theory of Self-Actualization, University of Brussels. Brussels, Belgium.
James H. McMillan, Sally Schumacher (2001) Research in Education: A Conceptual Introduction. Longman,
Lyubomirsky, S., Tucker, K. L., & Kasri, F. (2001). Responsesto hedonically conflicting social comparisons: Comparing happy and un happy people. European Journal of Social Psychology, 31,511-535.
Maslow, A. H. (1968).Towarda Psychology of Being. New York: D. Van Nostrand Company.
Padrós Blázquez, Ferran (2002) Disfrute y Bienestar Subjetivo. Un estudio Psicométrico de la Gaudibilidad. Tesis para Optar por el Título Doctor en Psicología. Universidad Autónoma de Barcelona. España.
Palmer et al. (2005) Factores de riesgo organizacionales asociados al Síndrome de burnout en médicos anestesiólogos. Salud Mental; 8(1):82–91
Rogers, C. R. (1961). On Becoming a person: A psychotherapists view of psychotherapy. Houghton Mifflin.
Ryan, R. M. y Deci, E. L. (2001). On Happiness and Human Potentials: A review of research on hedonic and eudaimonic well-being. Annual Review of Psychology, 52, 141-166.
Ryff, C. D. y Singer, B. H. (2008). Know thyself and become what you are: A
eudaimonic approach to psychological well-being. Journal of Happiness Studies,9, 13-39.
Ryff, C. & Schmutte, P. (1997). Personality and well-being: Reexamining methods and meanings. Journal of Personality and Social Psychology, 73, 549-559.
Ruini, C., Ottolini, F., Rafanelli, C., Tossani, E., Ryff, C. D. y Fava, G. A. (2003). The relationship of psychological well-being to distress and personality.
Psychotherapy and Psychosomatics, 72, 268-275.
Sánchez-Cánovas, José.(1998) Escala de Bienestar Psicológico. Madrid. TEA.
Sielger, I. C. y Brummett, B. H. (2000). Associations among NEO personality
assessments and well-being at midlife: Facet-level analyses. Psychology and
Aging, 15(4), 710-714.
Sue, D. (1996).Comportamiento anormal. México: McGraw-Hill.
Veenhoven, R. (1991) Is Happiness Relative? Social Indicators Research, 20, (pp. 333- 354). University Press. Rótterdam, Holanda.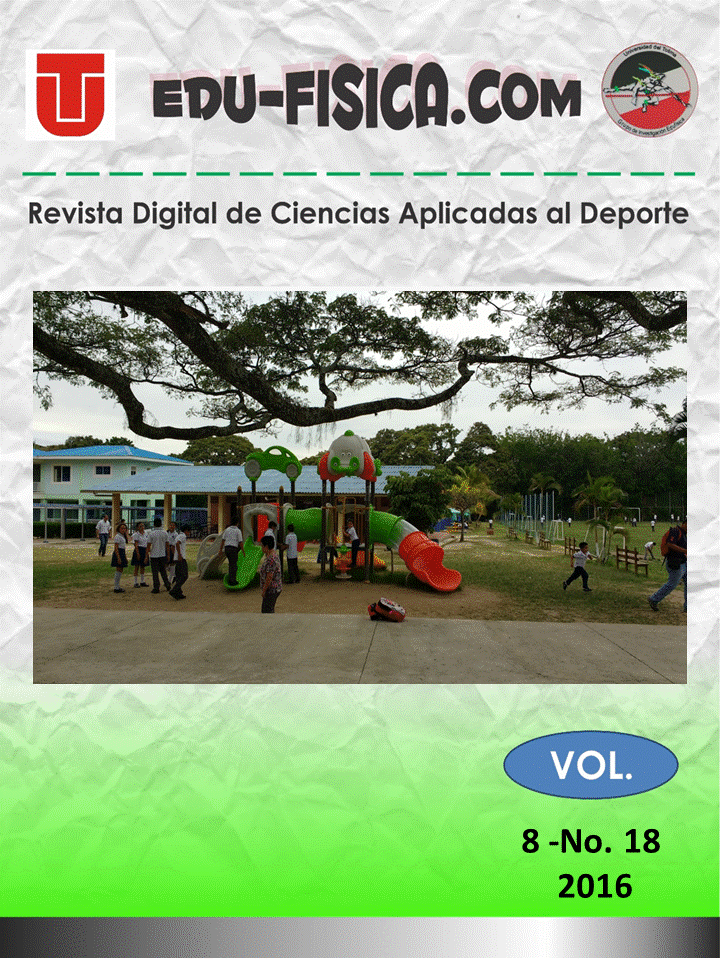 Cómo citar
Moreno Gonzalez, D. A., & Moreno Lavaho, M. M. (2016). LA ANSIEDAD, EL BURNOUT Y EL BIENESTAR PSICOLÓGICO EN ESTUDIANTES UNIVERSITARIOS /ANXIETY, THE BURNOUT AND PSYCHOLOGICAL WELL-BEING IN COLLEGE STUDENTS. Revista Edu-Física, 8(18). Recuperado a partir de http://revistas.ut.edu.co/index.php/edufisica/article/view/988
Si el manuscrito es aceptado para publicación los derechos de reproducción serán de la Facultad de Ciencias de la Educación, Universidad del Tolima. Ninguna publicación, nacional o extranjera, podrá reproducir ni traducir los artículos ni sus resúmenes con fines comerciales, sin previa autorización escrita del Comité Editorial de la revista Edu-Física.